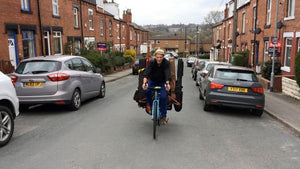 How Many Guitars on a Bike Challenge.
A good customer asked us how many guitars could we carry on a bicycle. Always up for a tough challenge, we decided to put the Airpannier to the test.
After a bit of head scratching we came up with a nifty double stacking technique which enabled us to hang a second Airpannier outside the first and to double this on the opposite side, giving us a useful gap in between. To hold it all together we managed to hang the last guitar, no. 8, at the back. For a grand finally we thought we'd add our favourite little sculpture Pablito the guitar man made for us by Anya Wharton, to keep an eye on those impatient motorists at the rear.
The sort of adventurous bicycle loading you'd expect to see in India, China or Vietnam, but I wonder how it would go down here in the UK with fussy, impatient motorists and finicky traffic police. Surprisingly comfortable ride, although you would want to make any sudden moves,
Get on your bike and carry what you like.
---