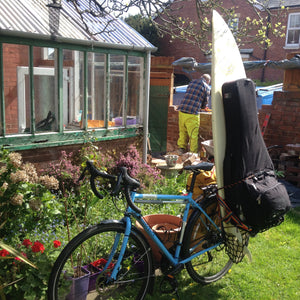 Carry More on Your Bicycle
Double Stacking With Airpannier.
Carrying large and odd shaped things on bicycles has never been easy. With the Mundo Air Pannier, we wanted to create a pannier that would allow you much more freedom than regular panniers, enabling you to safely carry odd shape and size cargos. We were keen also that you shouldn't have to modify your bicycle or carried object. Air Pannier does just this allowing you to organise your cargos in the optimum position inline with your rear wheel axle for a comfortable, well balanced and safe riding position.
Air Pannier allows many different load configurations for you to experiment with as
can be seen in our promotional video. Not immediately obvious, it's possible also to 'double stack' items in many different ways. In this image you can see the bike is rigged for one of those creative summer camping trips when you want your guitar by the camp fire and your surfboard to catch sunny surf. You could substitute a a full size rucksack for the regular pannier on the opposite side too. This is particularly convenient if you like heading off for those coastal or mountain walks from the campsite.
Here we took the 'double stacking' idea to the extreme and managed to carry 8 guitars after a good customer asked how many guitars we could carry on a bike. Great fun and a surprisingly comfortable ad secure ride.
Here are some other things we've managed to carry with Airpannier:
Airpannier's incredible versatility is highly portable. Weighing in at 226g, less than a tin of chickpeas, it can neatly fit into a jacket pocket or the bottom of a regular pannier ready for those unexpected and awkward cargo moments that regular panniers just can't handle. And it's cheaper than any competitor.
Airpannier, get on your bike and carry what you like.
---