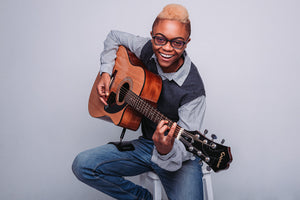 Mad Dog Dave Barnes Mundo Strap Testimonial
The Mundo Guitar Strap does what its maker Paul Martin says, ZZ Top spins and all.
Other products were disappointing so I'm grateful for something that works and reduces my chronic player's neck pain.
Ergonomic design comfortably redistributes weight over both shoulders, transforming the playing experience.
The cotton strap means no more nylon webbing burn. Non-invasive,? no alterations to guitar. Clever guitar attachment for secure, quick changes.
At gigs I trust my Dave King, National and PRS to the Mundo Strap.
Mad Dog Dave Barnes – blues singer and slide guitar player, Enfield.
---