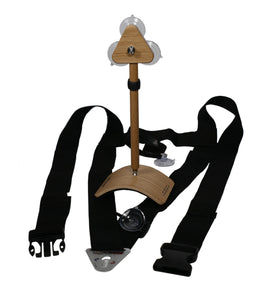 Proper posture for guitarists - a review by Javier Corroto Arance
A review of the Mundo Guitar Support & Strap by Dr Javier Corroto Arance,  classical guitar teacher and health professional, expert in health and well being for guitarists. Mundo Guitar Support:
The Mundo Guitar Support achieves our greatest goal, to achieve a comfortable playing position where both hips are maintained at the same height. This is the best posture to avoid any lower back injuries and pains to the guitarist. The support is very easy to use, comfortable and the guitar is supported with an interesting tilt that makes it easier to see and reach any fret position. It is well adapted to the leg, very stable and, in my view, very importantly, can be used by all guitarists: flamenco; classical; acoustic and electric. I can recommend the Mundo Guitar Support as one of the main supports for maintaining healthy ergonomic posture for any guitar. Mundo Guitar Strap.
---