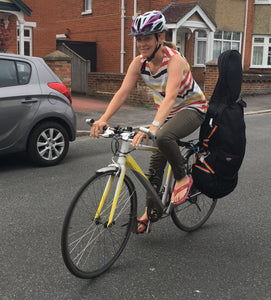 Quick, ingenious cello transport solution
Mundo's Air Pannier is such a brilliant, easy to use solution for carrying a cello on a bike - something I didn't think would be possible without spending shedloads of money! This is a quick, ingenious solution and small enough to store in a bag when not in use. Happy cycling...
- Becky from Southampton
Thanks Becky! We're really glad you're enjoying using the Mundo Air Pannier. Whether you're using it for a cello, guitar, trombone or any other large (or small) instrument, the Mundo Air Pannier is your perfect bicycle solution. 
Looking for an affordable, reliable and strong instrument pannier?
Look no further!
---