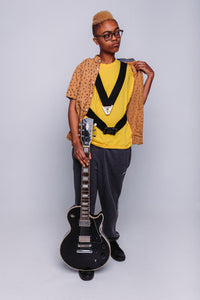 Mundo Guitar Strap - Invisible, 360 degree spin and pain relieving!
As a professional musician, I was thrilled when I got to try out the Mundo Guitar Strap.
Favourite feature – I could let go of the guitar and it would stay comfortably hanging in the air. I can spin the guitar 360° and feel secure letting it go. This affect looks amazing on stage and if the straps are hidden the illusion is unbelievable! It allows for hands free capabilities which helps if you have extra instruments or limited mobility.
The weight of whatever instrument you're using is equally distributed over the shoulders and back, so no more back pain from heavy equipment always pressing on one side, like with traditional guitar and instrument straps. And in the long term can have tremendous affect on posture and back pain prevention.
The strap has been designed to hold your instrument close and securely so there is no worry that they will fall and sits comfortably in front of the chest.
The design of the straps means that they can be hidden underneath a button up or a zip-up top. The straps come over both shoulders and cross at the back so a shirt can be fastened around it giving the illusion of a guitar that isn't being held or attached by anything! This is further improved by the suction cup holster that attaches to the back of the instrument and hooks into place on the strap. This alleviates any slippage of the straps from the usual guitar strap hook.
The strap and it's attachments are very compact and can be folded and stored in a small carry bag which is ideal for travelling and general care of the product. The design is sleek and well made, its light and feels good to the touch. The colours are minimalist and simple and the logo is small and well placed.
Overall I give this product 5/5! it's fantastic and I haven''t ever seen anything that works like this and works so well. Very clever!
So what are you waiting for?
Buy now!
---