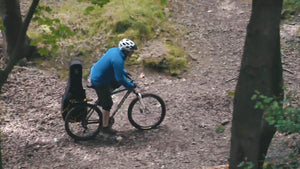 How To Carry a Guitar on a Bicycle?
As a guitar teacher going everywhere on my bike, this was a testing question. I wanted an ergonomic solution that didn't involve me carrying the guitar on my back any more (sweaty, uncomfortable & neck aching) particularly in hot weather. I wanted to design something that didn't involve modifying my bike or guitar case and that was safe, rugged, quick & easy to use. After much prototyping and testing we came up with the 'Airpannier.'
Airpannier is an awesome, tough solution tested to a massive 140kg, much more than you'll ever need, giving you peace of mind. It's easy to adjust your guitar to an optimum position for a very comfortable and safe ride. It's so comfortable you'll hardly notice your guitar is there.
When not in use, you can easily leave the Airpannier attached (see Airpannier Guide) or simply carry it as back up in your regular pannier. Even better, you can keep it in your jacket pocket. It's very light at 226g, around quarter the weight of an average pannier. It's also light on your pocket too at £34.50. Here' the full spec:
Weight: 226g - 1/4 the weight of an average pannier.
A pocket pannier - literally fits in your pocket.
Tested to a massive 140kg.
Quick and easy to use.
Fully adjustable for safe & optimum riding position.
Fits both sides of bicycle.
No modification needed to bicycle or carried item.
Rugged, weather-proof design.
Can double stack items.
My son and I are really pleased with the Airpannier, we achieved all the design criteria we set out to and were excited to find more as well. Watch our test rider Matt Dobby put it through its paces trying hard to shake off my Ramirez guitar:

In a world of crises on so many levels, wasteful consumption of finite resources being a prime concern, riding your bike is a powerful way to influence change. It's more than that, it's a key to good health and a positive message to those around you, we can make a difference. With Airpannier, we like to say 'get on your bike and carry what you like', but in answer to the question: 'how to carry a guitar on a bike' it's the most practical, affordable and best solution available.
As a footnote, we've set ourselves a challenge: 'how many guitars can you carry on a bike?' Stay tuned, we'll be testing that soon.
UPDATE: Click here to find out just how much the Mundo Air Pannier can carry!
---
1 comment