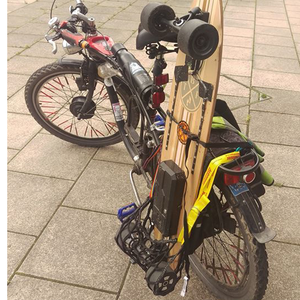 Customer Review - Jaimes Moran
I bought this Mundo AirPannier to cart around my 8kg 42'' electric skateboard as this is more affordable than most metal skateboard racks or expensive Esk8 backpacks, it's more versatile than such luggage carrying options too. I've been cycling six miles to group meets with this, it certainly does the job nicely. Haven't used the included velcro stripes yet but I imagine these would help somewhat. It comes with a nice carry pouch too.
For testing this Mundo AirPannier, I drove my loaded bicycle off high kerbs, on gravel with slightly protruding bricks, speed humps, pothole abundant roads and did some light off-roading on bumpy grass verges. The only problems I found during installation and removal were the large lobster clasps and how they struggle slightly to fit thicker pannier racks. (they will fit though, just takes some wiggling is all) The long D ring straps need tying to make sure they don't come lose.  
Overall, it's a good product for the price but there's a few things to bear in mind when using it. nonetheless, I recommend it highly. Must admit, it would be nice to see these being sold on Amazon or in bicycle and music shops, would reach many more perspective customers this way. Was surprised there wasn't more videos about this product on YouTube too.
Much appreciated,
Jaimes Lewis Moran. USA
---