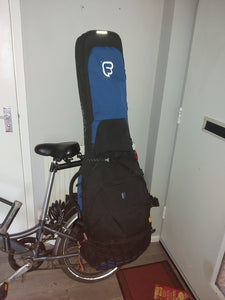 Big Loads Small Bikes
I've met a lot of resourceful cyclists over the years. The sort of folk who find or create problems then find ways to solve them. Mick Grant, a recent customer from Norwich with an Enfold folding bike, sent in some pics that demonstrate this really well.
As you can see, Mick uses AirPannier as a cargo tool for carrying his gear. Naturally, folding bikes have smaller wheels with the pannier rack being much lower to the ground, making it difficult to carry larger objects. As a busy musician and keeping costs down, Mick uses a seat post pannier rack giving him the extra height for mounting his guitars securely with AirPannier. Brilliantly, he then uses his guitar neck to hang his amplifier on the opposite side. This is really cool as the weight is then balanced over both sides for a more comfortable ride. Excellent tip for commuting buskers. On the way to an open mic gig Mick skilfully takes the fuss out of carrying cymbals too, big, round and awkward. 
Helping with a friend's art project he really pushes the boat out here with Intelligent use of space and note the light clipped on to the cargo, very wise.
Folding bikes are excellent for commuting on public transport and saving on your pocket. With a 'seat post pannier rack, an AirPannier and plenty of Mick's resourceful nature, you can carry some serious gear too.
---