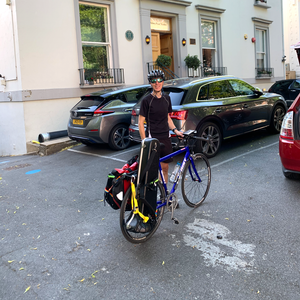 Abbey Road Studios Beat Covid & Lockdown With AirPannier.
Top session trombonist Andy Wood uses his new AirPanniers and heeds Boris Johnson's advice and employers request to avoid public transport during these tough times. Working at the famous Abbey Road Studios and needing to carry some bulky and expensive gear his regular panniers couldn't handle, he called us here at Mundo Music Gear. Using two AirPanniers he is now able to carry his expensive trombone on one side and double stack outside his regular pannier with his other important muso bits & bobs.
When designing AirPannier we developed the idea of double stacking (check out our extreme double & tripple stacking video here) to give riders a wide range of options in carrying awkward cargos. It's great to see Andy, a fellow musician, taking full advantage of this new technique. Also, AirPannier's full adjustability enables the rider to pin point the cargo in the optimum position for a secure, comfortable, well balanced and safe ride.
Abbey Road Studios and the FAB4 zebra crossing, wow, an incredible place to work for sure where echoes of the Beatles with George Martin and so many other rock artists have cut their stuff. Cool!
---