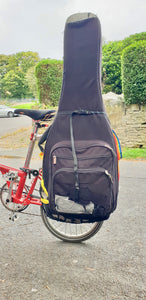 Carrying Guitars on Folding Bikes
A customer asked if she could use the AirPannier to carry her guitar on her folding bike. Always excited by a challenge we borrowed a good friend's Brompton (awesome design) and went to work.
Since this Brompton had no pannier rack fitted we decided to use a light weight seatpost rack. 
With the genius simplicity of the AirPannier, loading the guitar was quick and easy and the seatpost worked amazingly well for a really comfortable and safe ride.
We found the seatpost rack both light and very easy to attach. Initially, we were concerned that it may interfere with the Brompton's legendary and brilliant folding geometry. On folding the bike for storage, we were pleasantly surprised to find the rack didn't hinder the process at all. When folded, if anything, it enhanced carriage providing a useful towing arm, meaning the post could remain onboard. Looking at a good number of different folding bikes on line, we're confident the seatpost rack should work in exactly the same way.
I'm really impressed with the Brompton's design and as a frequent biking traveler on trains with very little bicycle storage, I can appreciate their practicality. This is a cool solution for commuting musicians on a tight budget and needing to beat the traffic. A folding bike, AirPannier and your sorted. 
---